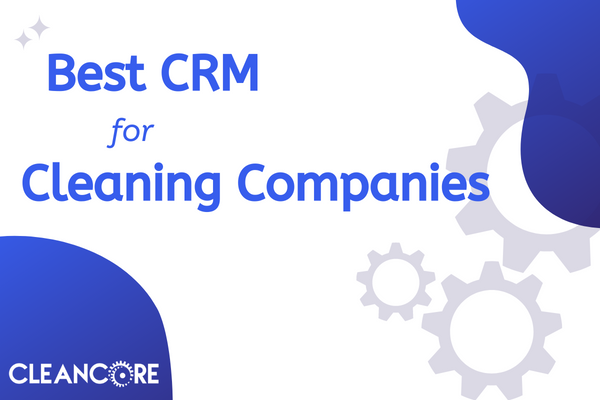 Best CRM for Cleaning Companies in 2022
As cleaning company owners ourselves, we were always looking for new software, a better CRM; something to fill a need. Over the years it's been somewhat slow. Only recently has technology really started to find its way to the residential cleaning industry and we couldn't be happier!
Technology has allowed us to grow much faster with more predictability and with greater ease.
So what makes CleanCore the best CRM for your cleaning company?
That's a pretty crazy statement, so let's dive into why we love it and why we think you will too...
Storing Customer Data
Yes, CleanCore is in fact a CRM that allows you to store, segment, and perform actions based on the contact data in your database.
It's important to note here that you can house more than just customer data inside of CleanCore. We also use it to manage contact data for applicants, team members, and leads.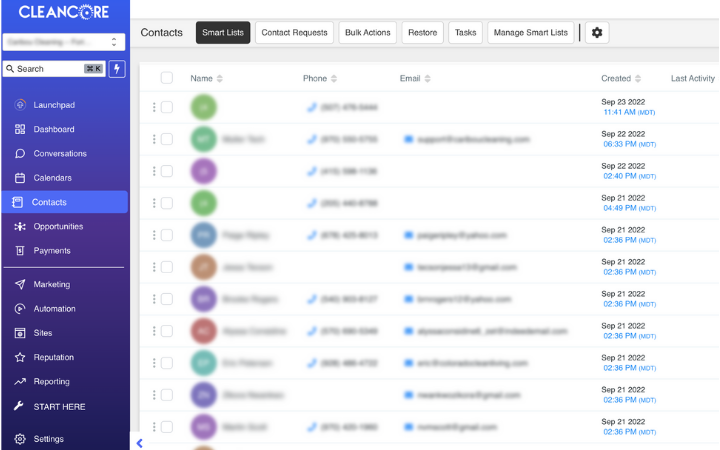 Once this data is captured, it can be securely organized in the Contacts tab of your CleanCore account. You now have the ability to use this information for future campaigns and marketing initiatives (more on this later).
The bulk of your database will be made up of leads (if you're doing it right). CleanCore helps us to generate leads by taking advantage of the traffic coming to our website and online platforms.
Lead Generation and Follow Up
It's true...
If you're not capturing leads from everywhere possible, you are leaving money on the table.
Paid ads are great but you can lower your customer acquisition costs by improving your organic efforts. You can do this by taking advantage of the traffic coming to your website from places like Google Business, Yelp, and just plain Google search.
But how exactly do I do this?
There are a couple of easy ways you can do this using CleanCore:
Quote form

Chat widget
Quote Forms Inside of CleanCore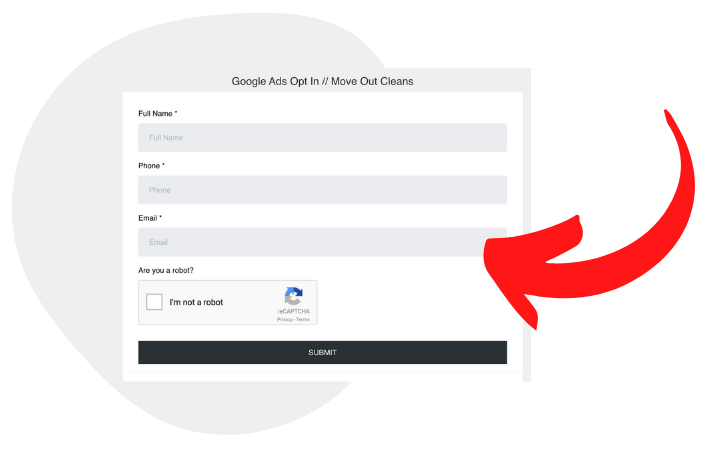 CleanCore gives you the ability to build as many forms and surveys as you want. You can build a simple quote request form to capture contact info from interested prospects.
Build a Chat Widget Using CleanCore
This is one of our favorite ways to capture website leads!
Building a chat widget in your CleanCore account is super easy.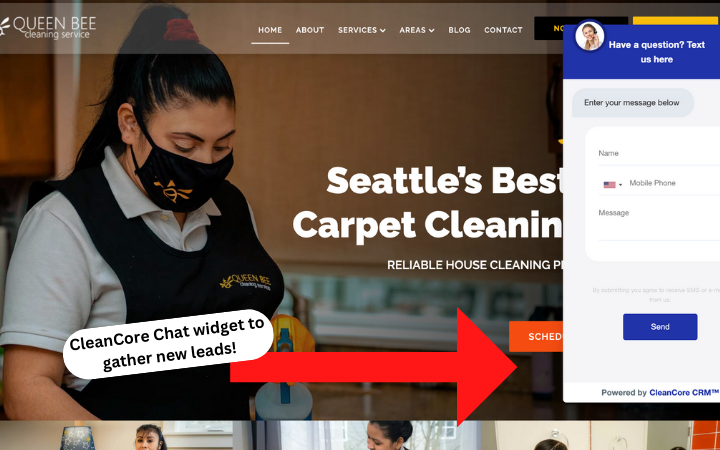 We've been able to capture so many more leads ever since we threw this up on our site. It works around the clock, engaging with potential customers, even when we're closed.
After all, most people handle "to-do's" after hours when they're not at work.
Makes sense, right?
Both of these lead capturing mechanisms work well in building up your database so you filter that data later and market to them to increase your bookings.
Database Reactivation
Warming up cold leads.
Now that you understand how to grab more of those leads coming to your website, let's talk briefly about how to squeeze the juice out of those leads.
As mentioned before, the bulk of your database will be leads, not customers.
Historically, those leads (potential revenue opportunities) would be lost forever.
Now, however, you can do what are called, "database reactivations" to try and reignite those prospects.
This is super easy to do in CleanCore and is VERY powerful.
We did this ourselves about a week ago to fill up our schedule for the current week.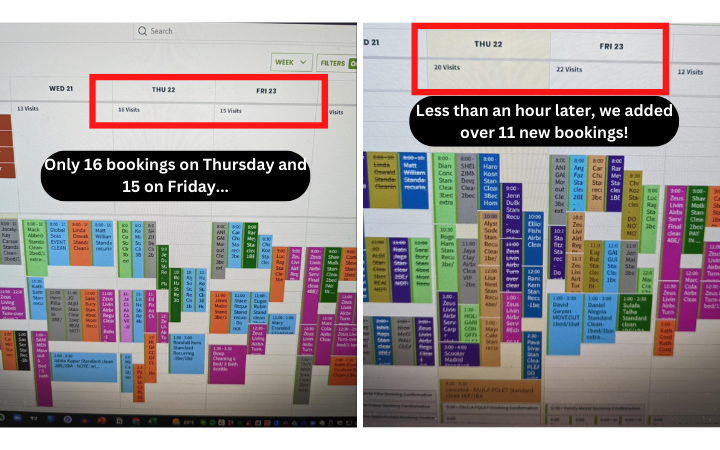 The SMS messages we sent out cost about $40 to send and we were able to book an additional $2,500 worth of jobs. That's an incredible ROI!
As you can see, CleanCore isn't just here to act as another software expense...
It's actually a great way to increase your bottom line month after month.
Enough about leads and customers - lets talk about recruiting!
Grow Your Team
If you've been in business for a while you know how critical it is but how tough it can be to recruit for your cleaning business.
Cleaners come and go all the time and it's up to us to ensure our customers are being serviced well and jobs are being fulfilled. Otherwise, we'll get stuck in the field cleaning which can start a downward spiral which won't be pretty.
There are other software applications out there that are built just for recruiting. Platforms like EasyHire are great for boosting your recruiting efforts but that requires another software expense and may not be quite as customizable as something like CleanCore.
Using some of the incredible features in CleanCore, we were able to construct a semi-automated recruiting system for employees and independent contractors.
The entire system is made up of:
SMS and Email Templates

Workflows

Forms

Surveys

Landing Pages
The series of landing pages make up he funnels we now use for recruiting and onboarding new cleaners.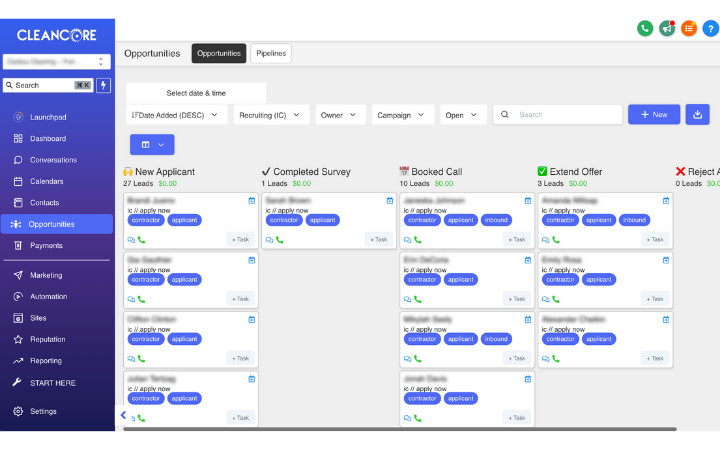 We won't go into too much detail here since we wrote an entire article and recorded a great video on how this works. If you haven't checked that out yet, be sure to do so after finishing this one!
Now let's dive into a couple of features that are not so common in a CRM.
Funnels and websites are 2 important tools that every cleaning business owner should be utilizing.
Unlimited Funnels and Websites
Funnels With CleanCore
A funnel is simply a series of landing pages. These are pages that are designed to convert at a higher rate than just your website.
Landing pages can be used for a variety of things:
Event Announcements

Advertising Initiatives

Recruiting Efforts

Education & Training

Collecting Payments

Resource Libraries
The list goes on...
Websites With CleanCore
Websites, on the other hand, don't need to much explanation as most people nowadays are familiar with websites.
A website is the front door into your business. It's an online portal that should route your visitors to the correct place whether that's a phone call, quote request, blog article, or easy online booking.
If you are going to operate and attempt to scale a cleaning company you NEED a website!
You can go through other CMS platforms like Wordpress or Duda or you could build it right inside of your CleanCore account!
Same as funnels, you can have unlimited websites for absolutely no extra charge.
In fact, the CleanCore website and the article you are reading right now are built and hosted inside of CleanCore.
To help you get started, you'll even get access to a couple of website templates professionally designed specifically for cleaning companies.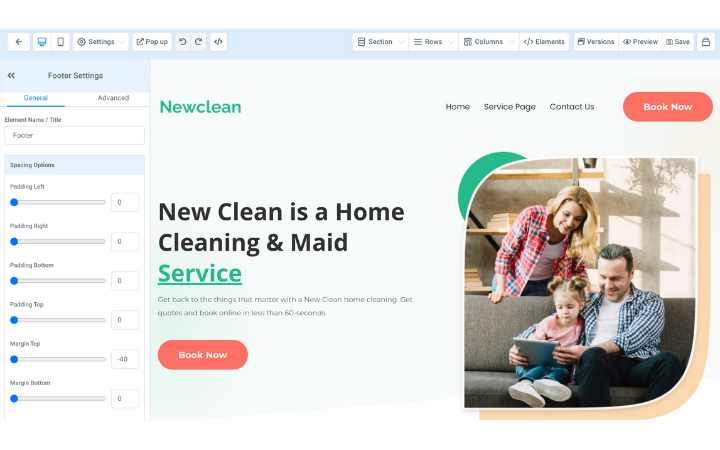 If you are pretty handy when it comes to designing websites and funnels, you're going to love these features. If you're not a website design enthusiast, you can always get up and running quickly through our partners who have helped hundreds of cleaning business owners with their websites.
Integrate and Automate
If you know anything about us, you know that we are HUGE fans of automation.
The more that can be done on autopilot, the more time we can spend doing other important things like spending time on revenue-generating activities (or just going on vacation).
One of the best things about CleanCore is that is is very integration-friendly and it allows us to build some really cool automation right inside of the platform.
Let's talk about automation...
Automation
Mentioned above, the workflow builder inside of CleanCore allows us to build intuitive work-processes for just about anything.
It's where the magic happens!
We construct simple and complex workflows depending on what we need to happen. Here are a few examples of some things that can be automated:
Request reviews from our customers

Follow up with leads that didn't book

Unsubscribe those who are no longer interested in our services

Onboard new cleaners

Send customers a "pre-cleaning" checklist

Auto-respond to Google Business messages

Update contact info in our business phone system
And so much more.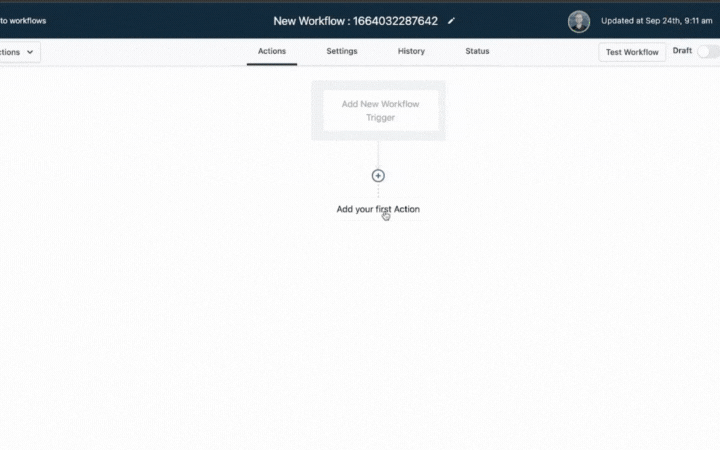 Check out our videos on YouTube to learn more about how we automate our cleaning businesses.
Integration
Don't miss this!
Integration is a SUPER important practice if you want a connected business system that functions like a well-oiled machine.
Believe it or not, there are many software applications out there that do NOT want you moving data out to other platforms.
They are greedy and if you're not careful, these apps can actually hinder the growth of your cleaning business.
Luckily, CleanCore is very integration-friendly, allowing us to connect our service software, phone system, and other apps we may use in our cleaning companies.
You can use webhooks to send data to Zapier where it can then be posted just about anywhere you want!
We could go on and on about how you can use CleanCore, but maybe it's best to just watch a demo video we put together for you.
Learn More About the CleanCore CRM
---
To wrap things up, CleanCore is our top choice in regards to a CRM (that is more than just a CRM) built specifically for cleaning companies.
You'll find it useful if you are serious about growing your cleaning business.
Like any tool, if you don't use it, it won't do anything for you...
Well, not really!
You could still use it to store customer data which in-and-of-itself increases the value of your business.
However, to get the most out of it, we recommend you use it for your lead generation, recruiting, onboarding, and automation efforts.
You can sign up today and gain instant access to your new CleanCore account.
After signing up, you'll be able to watch CleanCore training videos that will help you get the most out of the software and help you to scale your cleaning company.